FanciMats started as a custom framing shop 14 years ago which specialized in framing cross-stitch projects. In July 2001 cross stitching supplies were added to the store and have been a mainstay ever since.
We have a classroom, a full custom frame shop, and TONS of cross stitching supplies to delight and excite just about everyone that stitches. With 2600 sq. feet of charts, fabric and fibers, you're sure to find something to ignite your imagination.
FanciMats is always happy to do special orders as we love getting whatever you need.
In 2008, Cindy Edwards, a cross-stitching enthusiast, became the proud owner of FanciMats and More. Please stop by to see all the exciting changes.
FanciMats was recently featured in YourHub.com! Please click the picture below to read their article: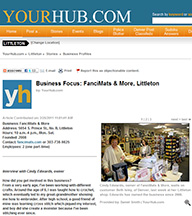 ---
FanciMats & More and Shepherds Bush was featured Wednesday, September 5, 2012 on Norden Crafts.
http://www.nordencrafts.blogspot.com (scroll about 1/3 the way down to the "Featured Shop" heading)